Announcement
The George Doonan Page
More editing options
9/15/17: With overwhelming sadness, we must inform you of the passing of GEORGE DOONAN, long-time Voice of Pearl River Little League and the Kayser-Brady Tournament, on September 13, 2017. A truly humble gentleman who gave of himself quietly and without ever seeking credit, George served Little League youth for decades as an umpire, and then as an announcer. He will be genuinely and sorely missed. We are thankful that we had the honor of knowing him. Rest in peace, George.

ADDENDUM: ON DECEMBER 6, 2017, GEORGE DOONAN WAS INDUCTED, POSTHUMOUSLY, INTO THE ROCKLAND COUNTY DISTRICT 18 VOLUNTEER UMPIRE HALL OF FAME

The article below was printed 9 years ago. So add another 8 years of service through 2016.
Friday, July 25, 2008
George Doonan: Fifty Years of Service
Pearl River Little League would like to acknowledge and thank Mr. George Doonan as he marks his fiftieth year of service to little leaguers in New York State. He began as an umpire in the Van Nest Little League in the Bronx, and umpired in many venues, both in the regular season and in Little League tournament play. He earned an outstanding reputation as a highly qualified and fair official. It was the good fortune of Pearl River Little League when George relocated to Rockland County and donated his services to the league. When, after many years, he finally hung up his chest protector and mask in the late 1990's, George continued to donate his time and services to PRLL as an announcer. He brought the same quality and dedication to his new duties as has had done as an umpire, and soon became a favorite part of the game for players and fans. He earned the respectful moniker of "Voice of Pearl River Little League". His work during the Kayser-Brady Tournament, held in July of the past five years, has earned him the admiration and respect of a new generation of managers, parents and players around the County and beyond. Pearl River Little League is truly fortunate to have George as a volunteer and friend.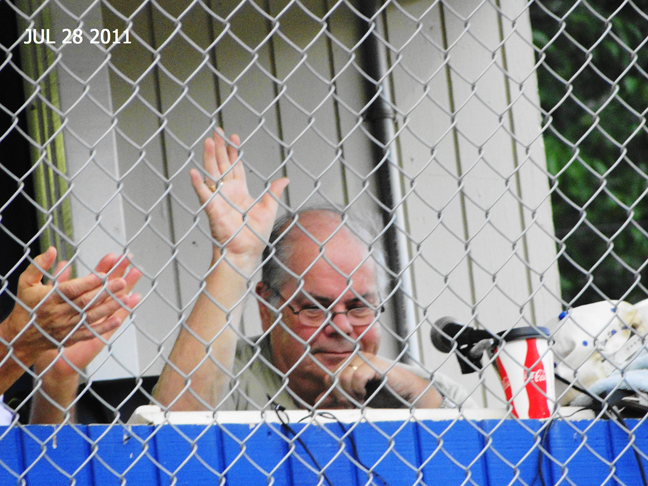 Comments
There are no comments for this announcement.